At last, my set is done and i can begin the animation part. I did 6 tests this week-end with the camera movements only to get comfortable with it. I was thinking about working only on 1 axis (left-right) with the camera but i thought that it would be nice to work with the other axis (up-down) as well. There were many ajustements and concessions when putting that in place, but i'm pretty satisfy with the results.
Here's my sixth camera movements test.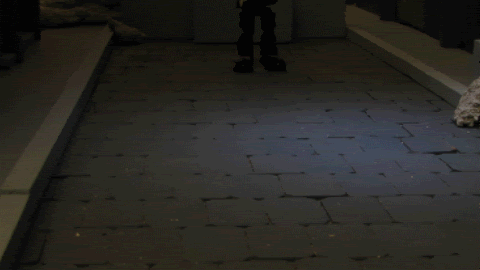 It's composed of 36 frames (12 frames per seconds) and that's why it's a little jerky. It's will be a lot smoother at 24 fps. I need to find a way to be more consistent with the rotation of the camera on each frame.
I tried to frame it as close as possible as it is in the trailer, but i didn't spent too many time on that.
For the moment, i'm not sure i'll let the lightning like that.
In order to keep the camera focus ajusted on my character, i recalibrated it every 5 frames. Settings: Macro, exposition: 3.2 sec, aperture: F5, ISO: 50.
I should do a running cycle without the camera movement to get use to it before doing them together as a final shooting. There's gonna be all lot of things to do at once.